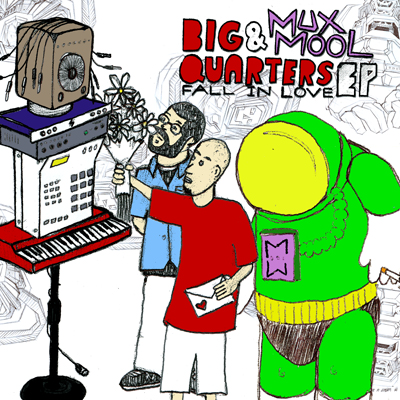 [wpaudio url="https://www.thewordisbond.com/wp-content/uploads/2010/10/01-Test-remix.mp3″ text="Big Quarters & Mux Mool – Test (Remix)" dl="0″]
[wpaudio url="https://www.thewordisbond.com/wp-content/uploads/2010/10/05-Bagaason-Bah-Guh-Sun.mp3″ text="Big Quarters & Mux Mool – Bagaason (Bah-Guh-Sun)" dl="0″]
This month, an EP which has been growing on me for a while now.. Big Quarters are Medium Zach & Brandon Allday.. They had a dope album out early last year "From The Home of Brown Babies and White Mothers", which gained them enough attention to put their Minneapolis brand of hip-hop on the map. This EP, produced by the king of the funked-out Minnesota tech sound Mux Mool, came out a few months prior to the album and showcases real quality tracks. It's pretty funked up for hip-hop, granted, but there are so few acts who can deliver high-energy styles well these days and as good as this EP is, I've heard these cats are at their best live.
Purchase EP tracks from iTunes / Amazon
Check out the Big Quarters website to purchase their current project, "Zip Disks Break". Also, if you haven't already, check Mux Mool's "Wax Rose Saturday EP" which is tracks from his album "Skulltaste" remixed by Devonwho, Paul White, Shigeto and more. Insane beats I tells you!!
Big Quarters: Website . Bandcamp . YouTube . Twitter
Mux Mool: Website . SoundCloud . MySpace . Twitter
~peacelove