Most cities find their crime concentrated in urban centres but Richmond, CA, is a little different. Richmond is unique in that the vast majority of crime committed there is exclusively reserved to certain sections of town. Other areas prove quiet, peaceful and prosperous in comparison. It is this juxtaposition that led to Knightshift and Chioke, the Richmond duo who make up The Dime, to name their debut album "The Brickyard Cove".
In an interview earlier this month the two artists explained how the Brickyard Cove, one of Richmond's wealthiest and most scenic areas, was always a place of refuge in hard times; a place that the youth of Richmond's poorer districts could aspire to one day live. The intro track taken from a news segment focused on youth crime in Richmond cements the theme of The Brickyard Cove. From the outset the album promises to be a journey through Richmond, CA, led by our two protagonists that make up, The Dime.
Continue Reading After The Jump
One of the most commercially viable tracks on the album will undoubtedly be "Rollin' Up 2". The verses on the track were originally spit over the instrumental to D'Angelo's "Brown Sugar", which at first seemed a much better fit for the duo's vocals. However, the funky beat, with its high head-nod-factor, grew on me and Knightshift's flow is highly impressive. Chioke's impossibly deep voice but soft honey-like flow will no doubt draw him many comparisons with southern rapper, Scarface. The duo actually sing the hook on this song, displaying their versatility in being able to pull off something most rappers stay well away from.
The album gradually moves away from hard-hitting rhymes to jazzy-blues rhythms as both artists contribute vocals over various hooks. One of the best tracks to come out of this change of pace is "Smooth Sailing." The eerie strings are accompanied by light percussion to create the effect of an ancient tale being told aboard a ship navigating the high seas in the black of night.
"Prescription" sees Knightshift get his Ne-Yo on, singing a full verse while Chioke once again takes charge of the rap side of things.
"Blue Galaxy"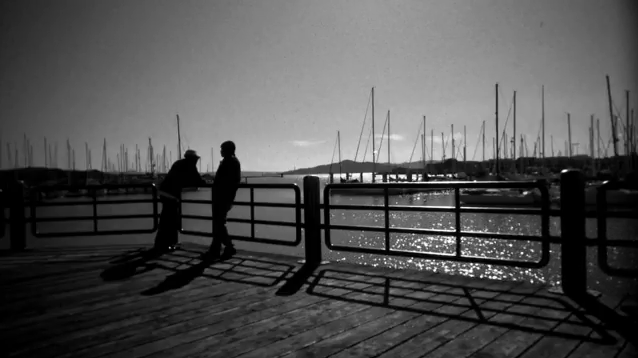 CLICK IMAGE FOR VIDEO
As the album progresses one thing that becomes quite apparent is not just the versatility of these two men's talents, but their beat selections and flow. Every song brings something new. Some songs clearly have stronger Rhythm 'n' Blues influences while others focus solely on Hip Hop. "Orange Sherbet" comes with a catchy piano loop and is themed – as many of the songs on the album are – around the opposite sex. Both artists are smooth on the love-inspired tracks. They loosen their flow and allow the lyrics to spew out, but when a hard track hits, every line seems to be delivered with a touch of venom to give it that tenacity needed for hardcore rap.
"Yellow Brick" signals yet another change of pace – on a side note, I'm really beginning to like this album, really – here come the anthems. The array of instruments that The Brickyard Cover is soundtracked with would surely make for an impressive live show from these guys. The horns and strings on "Yellow Brick" would sound incredible live, while the soulful vocals on "skillet" are just pure, Richmond, California, dope! Imagine those movie scenes or real-life moments when you see something inspirational happening. Whether it be Coach Carter's Richmond High School basketball team running suicides, young black men getting on the bus to complete the freedom rides of 1961, or MLK marching for equality, this beat encompasses all of those moments, epic. Marching music at its finest.
After a short interlude, proceedings are quickly taken back to the streets. Considering my last description it's fitting that Chioke sets the scene with: "Even MLK got his gun on." A grimy piano beat with sinister strings that sound like they've been jacked straight from a rainy day scene in a black and white movie take The Dime into a realm not too far from Mobb Deep.
The album closes on the same note it opened with, that being very much a Hip Hop vibe. Both artists let loose with some braggadocio rap and talk of the Richmond streets.
"The Come Up"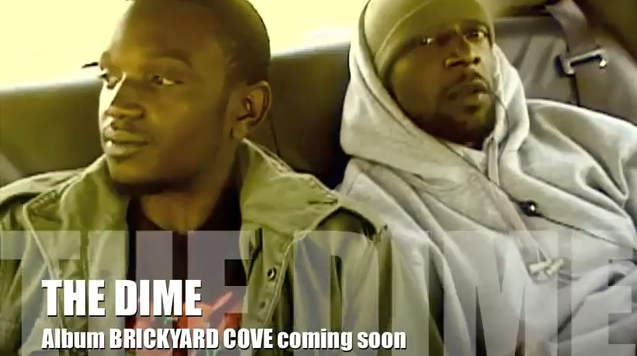 CLICK IMAGE FOR VIDEO
I've made statements like this before but the meaning rings true once again here: It's refreshing not to see Hip Hop artists cave in to the pressures of the hipster movement and all those who mindlessly follow the trend. Even the likes of Ludacris – someone who usually sports ultra-masculine apparel and lyrics to boot – can be seen wearing wide framed black glasses and fitted jeans in his latest video.
The Dime play their position well; not a single pair of tight-fitted chinos in sight, the big glasses have been left at home and cartoon t-shirts are replaced with simple sweats and khaki coats when the rhymes contain street talk. However, video footage proves that when the duo decides to take things more upmarket with vocals and instrumentals, their appearance changes accordingly. As Common once said: "This is grown man rap."
The Brickyard Cove induced me to go research Richmond and taught me a few things about the city directly. Ultimately, all emcees endeavour to do this, tell you about their hood, teach you about their life and their outlook on life in general. The Brickyard Cove isn't overpowered with skits and lines dedicated to telling you Richmond's "story", however, there are subtle references and the occasional skit that provides the listener with just enough information to spark curiosity. Curiosity of this town out West, a town ranked the fifth worst city of its size in America for violent crime.
Perhaps it would be unfair to say the album could have done with a few less tracks to give it that smoother, more polished finish, but whom are we to complain for being given more music for our buck?
Overall a very strong effort from The Dime though it remains to be seen whether their unique blend of all things good music can translate to mainstream success. Perhaps they've cast their net too wide in trying to reach too big an audience and please everyone else in the process. The industry may have trouble placing them which isn't necessarily a bad thing. I'd put them somewhere between The Clipse and Mobb Deep with an RnB edge that makes them unlike anyone else in Hip Hop at the moment. They're sure to receive love from the underground Jazz, Hip Hop and Blues circuits. Don't be surprised to see these guys performing in a Jazz or Blues club near you in the future.
[easyreview title="Word Is Bond Rating" cat1title="Lyrics" cat1detail="Both have a very good flow and Knightshift especially is nice with the street poetics" cat1rating="3.5″ cat2title="Production" cat2detail="Varied and unique production throughout" cat2rating="4.5″ cat3title="Originality" cat3detail="Production is very original, though lyrics are aimed towards females a little too much so" cat3rating="4″ cat4title="Replayability" cat4detail="The length of the album would make it hard to constantly replay" cat4rating="3″ summary="A very solid album."]
Heraldo