When reviewing an album I feel like I should have at least five listens the whole way through before the first word is typed. I have not kept track but I am sure since the process of reviewing The Hip-Hop Affect by J Rawls started I have listened to the album twenty times because it is that good.
J Rawls has been a fixture in Hip Hop since the early nineties and was instrumental in launching the independent Hip Hop explosion of the late nineties with his production of "Yo, Yeah" and "Brown Skin Lady" on the Mos Def and Talib Kweli are Black Star album. The Ohio producer has gone on to do countless dope projects and produce some of the most quality Hip Hop there is over the last decade.
Continue reading after the jump…
J Rawls
J Rawls is a name that has always been in my conversations when the topic is about great producers and with The Hip Hop Affect I am sure his name will continue to be in those conversations for a long time to come. With the second track off of The Hip Hop Affect, "Best Producer On The Mic", J Rawls pays tribute to three other producers who also happen to be real nice on the mic! Diamond D, Oh No and Kev Brown set the stage for what this album has in store for the listener, immediately I was pulled in by their lyrics over J Rawls' flawless production! The drums, horns and bass line are sure to give even the casual Hip Hop listener a reason to start moving.
[wpaudio url="https://www.thewordisbond.com/wp-content/uploads/2011/05/02-Best-Producer-On-The-Mic-feat.-Oh-No-Diamond-D-Kev-Brown-HHB.mp3″ text="J Rawls ft. Oh No, Diamond D & Kev Brown – Best Producer On The Mic" dl="0″]
From that point on the production of The Hip Hop Affect is exactly what I love about Hip Hop and a reminder why I fell in love with her in the first place. J Rawls is responsible for all the production except "Why You Do" which is produced by Rob Riley and "Are You Listening?" which featured additional production of World Famous Beat Junkie, DJ Rhettmatic. There really isn't one track that stands out from the others on the production end; I think that is the purpose of an album like The Hip Hop Affect.  I love an album that is consistently dope from beginning to end, where you consider it an actual dope album as opposed to an OK album with a few dope tracks. I guess if I had to pick out a couple tracks that I would never be able to live without now that I heard them, I would say the production on "That Very First Day" featuring Fat Jon is one that showcases why J Rawls is in a class with the greats.
[wpaudio url="https://www.thewordisbond.com/wp-content/uploads/2011/05/08-That-Very-First-Day-feat.-Fat-Jon-HHB.mp3″ text="J Rawls ft. Fat Jon – That Very First Day" dl="0″]
I would also have to say "Who Am I?" featuring S.P.I.R.I.T. is one of those tracks that gets repeated several times before moving on to the next cut when I am in the car and listening to The Hip Hop Affect. The bass line, drums and what I think is a flute just sound so incredibly dope at extremely loud levels! I can't express enough on how dope the production on The Hip Hop Affect is from start to finish; J Rawls has put together an album that should be listened to from the first track to the twenty-first track without skipping.
[wpaudio url="https://www.thewordisbond.com/wp-content/uploads/2011/05/10-Who-Am-I-feat.-S.P.I.R.I.T.-HHB.mp3″ text="J Rawls ft. S.P.I.R.I.T – Who Am I?" dl="0″]
With an insane amount of features like Sadat X, Wise Intelligent, Afaliah, El Da Sensei, John Robinson, J. Sands, Edo G, Senor Kaos, Casual and many, many more The Hip Hop Affect does not fall short lyrically at all. As a matter of fact, it seems like everybody involved with this project stepped up and gave J Rawls their best work. Each track on The Hip Hop Affect tells a chapter of the story that is the album. Starting with the intro with J Rawls' son, Joshy, asking the powerful question, "what does Hip Hop feel like?". Then on to Diamond D, Oh No and Kev Brown's proclamation on "Best Producer On The Mic". The chapters also include "Face It" featuring Sadat X and Wise Intelligent telling us what is missing in Hip Hop today, knowledge. J Rawls' rhymes on "Jewel" featuring Afaliah are the story of the struggles of married life and a true dedication to his wifey, I wish I was capable of writing something like this.
Senor Kaos hits us with a fun story on "Ya Friends In The Way", this joint is hilarious and set on yet another dope canvas J Rawls laid down. On  "Why You Do" J Rawls enlists the help of his son's and tells a story that gives me the goose bumps every time I listen. This is a story of his love for his boys and why J Rawls does what he does.  Hieroglyphics legend Casual blesses "Find A New" with some classic verses only he could spit, I love Casual over a J Rawls beat, this track may not be the best on The Hip Hop Affect but it is absolutely a must listen. "We're On Top (#OhioTakeover)" features 23 of Ohio's finest emcees all spittin' raps giving Ohio the representation it deserves. Every one of those 23 emcees came correct for J Rawls. The Hip Hop Affect has so much to offer lyrically that you absolutely have to listen to the album several times just to take it all in, then several more to really get the full effect!
J Rawls ft. Sadat X & Wise Intelligent – Face It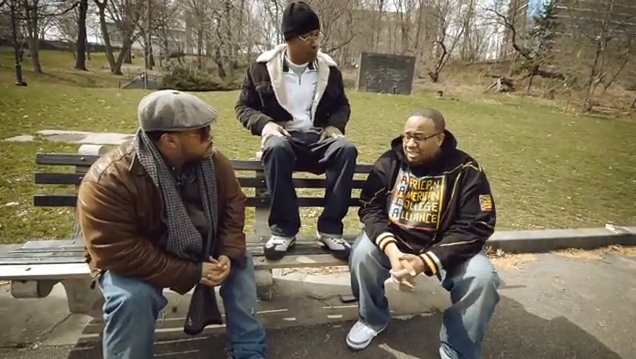 CLICK IMAGE FOR VIDEO
The Hip Hop Affect is extremely well put together and deserves every bit of praise I can give it. In a world filled with albums that have little content and one or two stand out tracks J Rawls gives listeners a complete album filled with amazing production and more content than fifteen commercially released albums put together. The Hip Hop Affect will be appreciated for a very long time and really gives me hope for the future of Hip Hop itself. If more artists listen to this album and realize that this is what people need to hear from them we may have a Hip Hop revolution that would include quality music.
On one hand, my hope is that it doesn't take a decade for J Rawls to put out another solo project like this, on the other hand if it takes ten years to drop something with this amount of quality it will surely be worth the wait. I fell in love with Hip Hop all over again in the process of listening to The Hip Hop Affect; I suggest you do the same.
PURCHASE: Nature Sounds • iTunes
J Rawls: Website • MySpace • Twitter
Jeremiah
[easyreview title="Word Is Bond Rating" cat1title="Lyrics" cat1detail="Lyrically The Hip Hop Affect is sound! J Rawls and all featured artists brought heat and dope content from start to finish." cat1rating="4″ cat2title="Production" cat2detail="This is a J Rawls album, that should speak for itself. J Rawls out did himself with this." cat2rating="4.5″ cat3title="Originality" cat3detail="It took J Rawls a decade to put this out, it has the originality of a fingerprint or a snowflake." cat3rating="4.5″ cat4title="Replayability" cat4detail="The Hip Hop Affect WILL remain in your playlist and be a go to album for any mood you might be in." cat4rating="4.5″ summary="The Hip Hop Affect has my vote for best album of the first half of 2011."]